News/Events
We are glad you are here.
Annual Notification of Change (ANOC)
Your Wellness
We care about you and your health. We are living through a pandemic, so what better time to breath easier. Did you know that the way you breath impacts your health? Or that humming 5 minutes a day can make a difference? To read more about what breathing says about you and how to reduce anxiety, read this article: Tips for Healthy Breathing
Dental Health Services' Disaster Relief Plan
Guidance to Providers Around Coronavirus
Read more
---
CMS Addresses the Coronavirus
Read more
---
How to Eat a Plant-Based Diet
Read more
---
California Broker Magazine: Evidence-Based Dentistry – How Dental Treatment Keeps Pace with Current Research
Your clients' dental plan can have an important, positive influence on how its participating dentists make treatment decisions. By offering front-line information and sources of new research, the dental plan can help its dentists balance the most up-to-date research with patient considerations when recommending treatment.
This article covers evidence-based dentistry as an opportunity for a dental plan to create more value for its members by emphasizing proven treatments, rather than following popular trends. This article was contributed by Dental Health Services Dental Director Stanley E. Ayers, DDS.
Read the entire article here.
Read more
---
California Broker Magazine: Beyond the Spreadsheet – Evaluating Dental Benefits for Value
The best way to ensure employers are getting the most value for dental benefits is to look beyond the spreadsheet for quality indicators.
Different ways to identify value when comparing dental benefits are described in this article contributed by Dental Health Services Executive Vice President Josh Nace. Read the entire article here.
Read more
---
California Broker Magazine: How to Evaluate Dental Benefits for Your Clients
Dental Health Services Director of Dental Services and Compliance Stanley Ayers, DDS emphasizes the importance of qualitative assessments when choosing dental plans.
Stanley E. Ayers, DDS recommends that a dental plan should be the member's advocate for appropriate treatment, quality of care, and quality of service. Read the entire article here.
Read more
---
Barry Thoma Award 2009
Josh Nace, Executive Vice President of Sales and Service
Seattle—Josh Nace was presented with the Barry Thoma Award today, Wednesday March 4, 2009 on behalf of the Washington Association of Health Underwriters.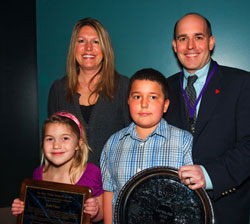 Each year we request nominations for the Barry Thoma Memorial award. This is the highest award given by our State Association in recognition of furthering our business through service to the association.
The parameters of the award are as follows:
The Board of Trustees of the Washington Association of Health Underwriters established the Barry Thoma Memorial Award to recognize those members who contribute significant amounts of time and talent to further the health insurance industry; who display the character traits and style of leadership; and who promote principals of professionalism and idealism.
The Board of Trustees has further named this award after its first recipient, Barry Thoma, RHU, who set an example for the members of the Washington Association of Health Underwriters.
*Photos available on request.
Read more
---
ESOP
Since May 1, 1988, Dental Health Services has been an active member of The ESOP Association, which is the national trade association for companies with employee stock ownership plans (ESOPs) and the leading voice in America for employee ownership.
The Company's ESOP Committee is the main liaison between the employee-owners and management. Its mission to educate, mediate, and celebrate its employees is taken seriously and ensures new employee-owners understand the Company's ESOP. The Committee develops educational tools, plans company events, and provides incentives for personal and professional growth.
Dental Health Services takes time to recognize individual dignity and worth, and the important role this plays in the Company. We believe that employee-ownership improves motivation and increases productivity through greater employee participation. Dental Health Services cares passionately about its owners, and will work to help them overcome their challenges and meet their goals.
Read more
---
An independent, employee-owned company, Dental Health Services is always ready to respond to emerging trends, industry changes, and innovations in the delivery of dental care. As active members of numerous local programs, organizations and clubs, our employee-owners care passionately about this company and our community involvement. Some of our involvement includes:
National Association of Dental Plans (NADP)
Seattle Metropolitan Chamber of Commerce
American Marketing Association (AMA)
Employee Stock Ownership Plan (ESOP) Foundation
California Chamber of Commerce
SHRM – Society for Human Resources Management
CA is licensed by the Department of Managed Health Care (DMHC)
WA is licensed by the Office of the Insurance Commissioner (OIC)
National Association of Health Underwriters (NAHU)
Northwest Washington Association of Health Underwriters